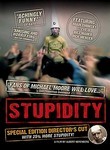 Stupidity
Cast:

Salma Hayek, John Cleese, Steve-O, Bill Maher, Noam Chomsky, George W. Bush, Michael Moore, Adam Sandler, Joel Schumacher, Drew Curtis, Coolio

Director:
In this cheeky documentary, filmmaker
Albert Nerenberg
conducts an inquiry into the origins of stupidity, exploring why humans increasingly choose to be ignorant despite information being more widely available than ever. Footage includes interviews with authors, academicians and pop-culture personalities such as
Noam Chomsky
,
Coolio
,
John Cleese
,
Salma Hayek
and
Bill Maher
. Extras offer you a chance to test your IQ (Ignorance Quotient).