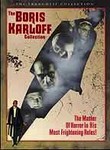 The Climax / The Strange Door
Cast:

Boris Karloff, Susanna Foster, Turhan Bey, Gale Sondergaard, Thomas Gomez, June Vincent, George Dolenz, Ludwig Stossel, Jane Farrar, Erno Verebes, Lotte Stein, Scotty Beckett, William Edmunds, Charles Laughton, Sally Forrest, Richard Wyler, Alan Napier, Morgan Farley, Paul Cavanagh

Director:
Horror icon
Boris Karloff
-- best known for his portrayals of Frankenstein's monster and Im-ho-tep the mummy -- takes on a wide variety of roles in this collection of classics. In The Climax (1944), Karloff stars as a Parisian doctor who falls in love with a beautiful apparition. Then, in The Strange Door (1951), he plays the manservant of a wickedly evil madman (
Charles Laughton
).