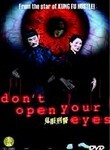 Don't Open Your Eyes
Cast:

Director:
Blessed (or is it cursed?) with the ability to see ghosts, a homicide detective named Seven (
Alex Fong
) can't seem to shake a shady character known as "the Hatchet Man," who's actually a criminal he killed in the line of duty. Enlisting the help of the precinct's resident expert on all things supernatural (
Wah Yuen
), Seven launches an attack on the dead in an effort to save his own life.