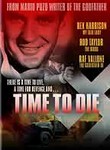 Launching a plot to get back at the Nazis who tortured him and killed his wife, World War II veteran Michael Rogan (
Edward Albert Jr.
) sets his sights on the guilty men: four Germans, an Italian and a Hungarian. But one of his marks (
Rex Harrison
) has ties to the United States and is slated to become the West German chancellor. Helping Rogan on his quest are a prostitute (
Linn Stokke
) and CIA operative Jack Bailey (
Rod Taylor
).