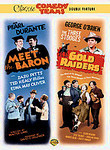 The Three Stooges: Meet the Baron / Gold Raiders
Cast:

Director:
Two incarnations of
The Three Stooges
-- one with Curly and one without -- turn up the slapstick in this twin bill of classic comedies. In Meet the Baron (1933), Jimmy Durante stars with Moe (
Moe Howard
), Larry (
Larry Fine
) and Curly (
Curly Howard
), who play janitors at a ladies college. Then, in Gold Raiders (1951, with
Shemp Howard
), the boys portray snake-oil hawkers who help frontier insurance agent George O'Brien foil a gang of gold thieves.