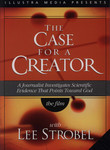 The Case for a Creator
Cast:

Director:
Award-winning journalist and longtime atheist
Lee Strobel
embarks on an intense search for scientific evidence that God exists. Strobel, a former writer for the
Chicago Tribune
, questions his lack of faith when his wife converts to Christianity. Based on the
New York Times
best-seller, The Case for a Creator asks the question: Can science prove what religious leaders and the faithful have always taken for granted?