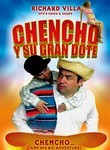 Chencho y Su Gran Dote
Cast:

Director:
In this Nacho Libre-style comedy,
Richard Villa
stars as Chencho, a poor boy from Mexico who dreams of marrying the luscious Eloisa (
Daniela Melgoza
). Eloisa, on the other hand, can think of nothing worse than an arranged marriage with a hick like Chencho and flees to the United States, where a job awaits. The work, however, turns out to be at a strip joint, and Chencho may find himself more to Eloisa's liking when he catches up with her.