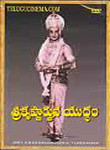 Sri Krishnarjuna Yuddham
Cast:

Director:
When called upon to join the war between the Pandavas and the Kauravas, Arjuna refuses to fight until Lord Krishna, disguised as Arjuna's charioteer, teaches him the ways of a warrior in this epic tale. Based on an ancient legend, director Kadri Venkata Reddy's interpretation of the classic story about Indian culture exposes the virtues and vices of a conquering race. Nageshwara Rao Akkineni,
Rama Rao Taraka Nandamuri
and
Saroja Devi B.
star.