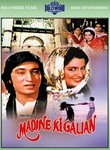 Madine Ki Galian
Cast:

Director:
Life is good for newlyweds Zeenat (
Hina Kausar
) and eye doctor Asif (
Shakti Kapoor
) -- until they discover they can't get pregnant. When every doctor they see tells them that Zeenat will never bear a child, the bride, her mother-in-law and friends place their faith in God and pray for a miracle. Asif, however, is a man of science, and as such places little faith in the ladies' charms and incantations.