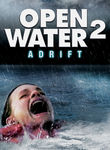 Open Water 2: Adrift
Cast:

Director:
Old high school friends set sail on a yacht for a party cruise weekend that turns into their worst nightmare in this thriller based on true events. Forgetting to let down the ladder, the groups decides to go for a dip in the ocean. Realizing their mistake, panic sets in and the clock starts ticking. To make matters worse, Amy (
Susan May Pratt
) suffers from aquaphobia and her baby is still onboard.
Eric Dane
and
Cameron Richardson
co-star.