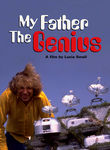 My Father the Genius
Cast:

Director:
In this cheeky and entertaining documentary, filmmaker
Lucia Small
chronicles the rise and decline of her father,
Glen Howard Small
, a visionary architect whose uncompromising but uncertain career path consistently undermined his personal life at home. Is he a true genius? Or does his ego outstrip his talent? This film is a compelling look into the mind of obsessive creativity through the eyes of a daughter struggling to understand her father.