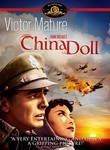 Stationed in Asia during World War II, U.S. pilot Cliff Brandon (
Victor Mature
) marries his Chinese housekeeper, Shu-Jen (
Li Hua Li
). After she's killed in a bombing attack, Brandon leaves their baby daughter with strangers and takes off on a dangerous mission. Fifteen years later, he returns to China, determined to find his daughter.
Ward Bond
,
Johnny Desmond
,
Stuart Whitman
and Olympic decathlete
Bob Mathias
co-star in this gripping drama.