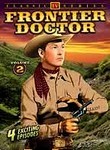 Frontier Doctor: Vol. 2
Cast:

Director:
In the remote town of Rising Springs, Ariz., Dr. Bill Baxter (
Rex Allen
) has his hands full carefully attending to his sick patients while trying to ensure that everyone gets along. This TV Western series from the 1950s blends together amazing action sequences and compelling dramatic conflicts. Series star Allen also achieved great success in the music world as one of Hollywood's popular singing cowboys.