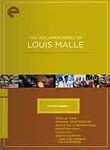 The Documentaries of Louis Malle
Cast:

Director:
Best known for his many feature film masterpieces, renowned director
Louis Malle
also created numerous compelling documentaries over the years. With visual poetry and moving insight, the films in this collection illuminate the lives of ordinary people in France, India and the United States. Malle leads viewers on an engaging journey from a lively Paris street corner to the chaos of Calcutta and into America's heartland.