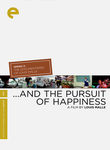 The Documentaries of Louis Malle: ... And the Pursuit of Happiness
Cast:

Director:
With a nod to his own experiences as a foreigner, French filmmaker
Louis Malle
documents the immigrant experience in the United States throughout the mid-1980s. The result is a collection of first-person narratives from from various walks of life. The subjects include migrant farm workers, Russian Jews, Cuban exiles, Asian small-business owners and the first Costa Rican immigrant to become a U.S. astronaut.