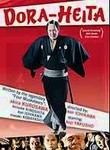 Thirty years after writing the script with fellow master directors Akira Kurosawa, Masaki Kobayashi and Keisuke Kinoshita,
Kon Ichikawa
brings the story of an unruly samurai (
Koji Yakusho
) to the screen. Nicknamed Dora-Heita ("Alley Cat") for his penchant for debauchery, the samurai is assigned to clean up a lawless small town. His reputation is well-known, so the local thugs are in disbelief when the new magistrate gets down to business.