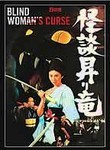 Blind Woman's Curse
Cast:

Director:
After three years in prison, an yakuza boss must defend her turf in this Japanese cult classic. Akemi Tachibana (
Meiko Kaji
) leads her clan against the dangerous Dobashi-gumi mob, a mysterious blind swordswoman and a black cat with a taste for blood.
Teruo Ishii
co-writes and directs this high-action film that blends gang violence with Japanese ghost stories and features plenty of exciting sword battles.