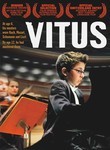 Pushed to succeed and live up to his parents' ambitions at an early age, young Vitus (played by
Fabrizio Borsani
and
Teo Gheorghiu
) is a virtual genius and a prodigy at the piano. But as Vitus grows older, he decides on a different path: one that leads to an ordinary childhood.
Julika Jenkins
and
Urs Jucker
co-star in writer-director
Fredi M. Murer
's heartfelt tale, which won the Swiss Film Prize for Best Film of 2007.