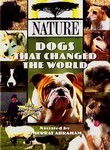 Dogs That Changed the World
Cast:

Director:
Man's best friend is the subject of this in-depth program narrated by actor
F. Murray Abraham
. Learn how dogs have transformed from fierce, untamable beasts centuries ago to become the preferred pet for more than 750 million people worldwide. In addition to exploring where dogs came from, this informative program looks at where modern technology will be taking dogs in the future.