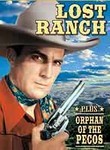 Lost Ranch / Orphan of the Pecos
Cast:

Director:
Cowboy hero
Tom Tyler
stars in this pair of 1937 Westerns, which feature the same cast in different roles. In Lost Ranch, Tyler plays a lawman who finds nothing but trouble when he searches for a kidnapped rancher (
Lafe McKee
). Orphan of the Pecos sees Tyler on the run as Tom Rayburn, a cowboy falsely accused of killing ranch owner Hank Gelbart (McKee again).
Theodore Lorch
also stars as ventriloquist and medicine peddler Doc Mathews.