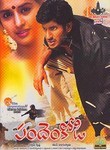 Pandem Kodi
Cast:

Director:
While visiting the home of his friend Karthik (
Raja
), college graduate Balu (
Vishal
) meets and falls in love with Karthik's beautiful sister (
Meera Jasmine
). But after Balu witnesses a dangerous crime in the city, his life is thrown into danger, and he's forced to go on the run. To make matters worse, a powerful local crime boss (
Lal
) wants to see Balu silenced permanently, stopping at nothing to achieve his sinister goal.