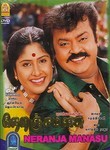 Neranja Manasu
Cast:

Director:
In a destitute hamlet where the denizens make ends meet by committing highway robbery, the birth of the village elder's grandson Ayyanar (
Vijaykant
) gives the community hope for the future. Virtuous from boyhood, he begins to change the town's fortunes by ratting out his murderous cousin Sivanandi (
Sampath
) -- making an enemy in the process. But will Ayyanar's virtue cost him his life 20 years later when the vengeful Sivanandi gets out of jail?