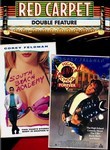 South Beach Academy / Rock 'n' Roll High School Forever
Cast:

Corey Feldman, Andrea Paige Wilson, Larry Linville, Steven Ho, Mary Woronov, Sarah Buxton, Evan Richards, Mojo Nixon, Liane Alexandra Curtis, Michael Monks, Jason Lively, Charles Noland, Brynn Horrocks, Michael Cerveris, Patrick Malone, Keith Coulouris, Gary Bristow, Elizabeth Kaitan, Mindy Feldman, Al Lewis, Kristina Rodriguez, James Hong, Christi Bauerle, Lorelei Leslie, Tiffany Cara, Julie Cialini, Ute Weigel, Marcus Mueller, Amy Lynn Rosenthal

Director:
Corey Feldman
champions the cause of teenage fun in this double feature from the 1990s. In South Beach Academy, Billy (Feldman) leads a volleyball team in a gambit to keep the party-central doors of South Beach Academy open.
Al Lewis
co-stars. In Rock 'n' Roll High School Forever (a sequel to the 1978 hit starring the Ramones), Jessie (Feldman) sticks it to the stiff, music-hating principal (
Mary Woronov
) at Ronald Reagan High.