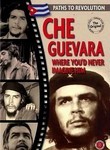 Che Guevara: Where You'd Never Imagine Him
Cast:

Director:
Assembled by Cuban director
Manuel Perez
, this documentary creates a complete portrait of famed revolutionary Che Guevara. Using rarely seen archival footage and photographs, the film follows Guevara from his early childhood in Argentina and the famed motorcycle trip recounted in 2004's The Motorcycle Diaries to his 1967 execution in Bolivia. Bonus features include rare earlier short films on Guevara's life and activism.