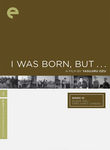 I Was Born, But...
Cast:

Director:
Set in suburban Tokyo, this incisive silent satire follows brothers Keiji (
Tomio Aoki
) and Chounan (
Hideo Sugawara
), whose admiration for their father, Yoshi (
Tatsuo Saito
), takes a nosedive when they witness his fawning behavior in front of his employer. Making matters worse, Yoshi's boss is the father of their classmate. The supporting cast includes
Takeshi Sakamoto
,
Mitsuko Yoshikawa
and
Seiichi Kato
.