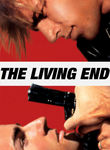 The Living End
Cast:

Director:
Auteur
Gregg Araki
delivers a remastered edition of his breakthrough film. Jon (
Craig Gilmore
), who's just been diagnosed with AIDS, reluctantly opens his home to a similarly afflicted homicidal drifter named Luke (
Mike Dytri
). When Luke kills a cop, the two elude the authorities on a road trip through the American West. But as the journey progresses, Jon begins to wonder if Luke's "do it all, for tomorrow we die" attitude is right for him.