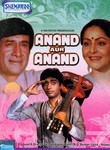 Anand Aur Anand
Cast:

Director:
When Arun forced his pregnant mistress, Kiran, to temporarily marry his co-worker, he thought he was making the right choice. But when his son grows up believing another man is his father, Arun realizes it was the worst decision of his life.
Dev Anand
directs and stars in this absorbing thriller that also stars
Smita Patil
,
Raj Babbar
,
Natasha Sinha
,
Rakhee Gulzar
and Anand's real-life son
Suneil Anand
as Arun's illegitimate son, Varun.