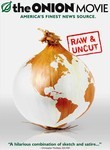 The Onion Movie
Cast:

Director:
Venerable newscaster Norm Archer (
Len Cariou
) reports the latest news in politics, health, culture and entertainment -- such as an automotive recall of decapitation-inducing "neckbelts" and a study finding that "depression hits losers hardest." The compilation of bogus news stories, celebrity profiles and movie trailers comes courtesy of the ace satirists at
The Onion
. But the film's most intriguing credit is
Steven Seagal
as Cock Puncher.