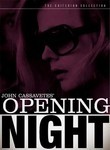 In one of
John Cassavetes
's most acclaimed films, the director's favorite leading lady,
Gena Rowlands
, plays a stage star heading for a breakdown just as her latest show is about to open. When a fan she dismissed is killed in a car accident, the actress begins to lose her grip -- on both her stage persona and her real one.
Ben Gazzara
, another regular, plays the theatrical director, and Cassavetes cast himself as the male lead in the play.