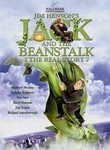 Jack and the Beanstalk: The Real Story
Matthew Modine
and
Vanessa Redgrave
lead a stellar cast in this Emmy-winning revisionist fantasy based on the timeless fairy tale. With the unearthing of a giant's bones, Jack Robinson (Modine) begins a fantastical quest to undo an ancient family curse. But to do so, he must expose a horrible injustice committed by his ancestors.
Jon Voight
,
Mia Sara
,
Daryl Hannah
and
Richard Attenborough
also star in this modern-day fable.