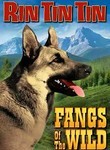 Rin Tin Tin: Fangs of the Wild
Cast:

Director:
When a crafty gang of criminals begins using a
Rin Tin Tin
double to snatch valuable pelts from fox farms, undercover agent Don Brady (
Dennis Moore
) and his trusty canine companion, Rinty, are called in to track down the baddies and their pooch. But the investigation hits a snag when Rinty is mistaken for the crooks' dog -- and Don is fingered as the fur thief.
Luana Walters
,
Tom London
and
Jimmy Aubrey
also star.