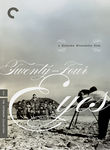 Twenty-Four Eyes
Cast:

Director:
In 1928, young Hisako Oishi (
Hideko Takamine
) comes to a small village to teach the children. As she connects with her 6-year-old students, war threatens their peaceful world, and she struggles to give them hope. But she knows that war will claim the innocent. For the next 20 years, she watches her students grow into adulthood and shares in their tribulations.
Keisuke Kinoshita
directs this Japanese cinema classic.