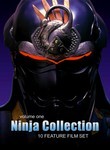 Ninjitsu / Ninja Hunt / Purple Hood Ninja / Purple Hood Ninja 2
It's nonstop ninja action in this collection. Rival ninja clans square off against one another in Ninjitsu.
Konoe Jushiro
stars in Ninja Hunt, which follows several ronin attempting to prevent an evil ninja from harming the Gamo clan and its young heir. In Purple Hood Ninja and its remake, Purple Hood Ninja 2, a daring swordsman stands up against an evil tyrant who is abusing his power and stealing gold from commoners.