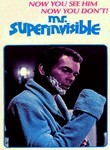 While researching a cure for the common cold, Dr. Peter Denwell (
Dean Jones
) stumbles across a potion that turns him invisible, but nefarious foreign agents catch wind of the discovery and track him down, bent on using it to dominate the globe. Now, Denwell and his trusty sheep dog must use the formula to beat the spies at their own game.
Antonio Margheriti
directs this action comedy;
Ingeborg Schöner
co-stars as Denwell's love interest, Irene.