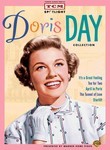 The story of a serviceman with a crush on a starlet provides the slim plot for this film whose real purpose is to showcase the big-name stars of the day entertaining the troops. To that end,
Doris Day
,
Gordon MacRae
, James Cagney and others perform. Highlights include a wacky Western production number featuring Gary Cooper as a Texas Ranger, plus a slew of songs by George and Ira Gershwin and Cole Porter.
Virginia Mayo
and Jane Wyman also appear.