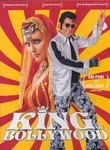 King of Bollywood
Cast:

Director:
Though his film career faded long ago, Karan "KK" Kumar (
Om Puri
) still carries himself like the top Bollywood star he once was -- that is, until a visiting documentary filmmaker (
Sophie Dahl
) exposes the insecurities lurking beneath KK's confident surface. Now it's up to KK to turn his energies toward his son, a young actor who could possibly carry on the family acting tradition. Indian screen veteran Puri shines in this Bollywood comedy.