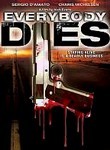 Everybody Dies
Cast:

Director:
After quickly establishing a deep connection with tough-talking hooker Nina (
Charis Michelsen
), his latest target, hardened hit man Jake (
Sergio d'Amato
) chooses to spare her life. As they frantically flee from merciless enemies, the desperate couple discovers death at every turn.
Josh Evans
writes and directs this edgy thriller, which features a fractured narrative that cleverly shifts back and forth through time.