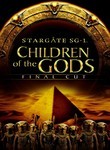 Stargate SG-1: Children of the Gods
Cast:

Director:
To locate aliens that attacked Earth, Jack O'Neill (
Richard Dean Anderson
) leads a military group through the Stargate, a portal to the planet Abydos. On this dangerous mission, O'Neill's team tries to help former colleague Jackson (
Michael Shanks
) and battles parasitic Goa'uld enemies. Reedited by co-creator
Brad Wright
, this definitive edition of the sci-fi series pilot picks up one year after the events of the Stargate movie.