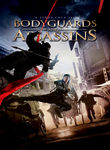 Bodyguards and Assassins
Cast:

Donnie Yen, Leon Lai, Xueqi Wang, Tony Leung Ka Fai, Nicholas Tse, Hu Jun, Yuchun Li, Eric Tsang, Simon Yam, Bingbing Fan, Cung Le, Bo-Chieh Wang, Yun Zhou

Director:
On the eve of the Chinese Revolution that will overthrow the Qing Dynasty, the founder of modern China, Sun Yat-sen, faces an assassination attempt. It's up to a group of the world's top kung fu masters to keep him safe. Directed by
Teddy Chan
, this action-packed, fictionalized retelling of historical events features a host of Hong Kong and Chinese stars, including
Donnie Yen
,
Leon Lai
,
Nicholas Tse
,
Xueqi Wang
,
Tony Leung Ka Fai
and
Simon Yam
.