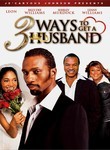 Three Ways to Get a Husband
Cast:

Director:
In this musical drama, Chastity Moore (
Shannon Dade
) can't find the winning combination: Devon (
Leon
) was a loyal man, but the war took him away. New boyfriend Jemarcus (
Javon Johnson
) has the looks and high style, and the ego to match. Then Devon comes home, and the real fight begins. Both men are appealing and neither will back down; Chastity's mom, Patricia (
Shirley Murdock
), advises spiritual patience, but Chastity can't wait forever.