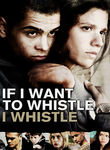 If I Want to Whistle, I Whistle
Cast:

Director:
Just days before his scheduled release from a reformatory, teenage delinquent Silviu (
George Pistereanu
) takes a pretty social worker (
Ada Condeescu
) hostage and threatens to kill her unless his estranged mother (
Clara Voda
) promises not to separate him from his younger brother. Will Silviu's desperate act to protect his sibling cost him his freedom? Marian Bratu also stars in this engrossing drama from director
Florin Serban
.