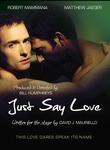 Just Say Love
Cast:

Director:
After sharing stimulating conversation, philosophy-reading homosexual Guy (
Matthew Jaeger
) and married carpenter Doug (
Robert Mammana
) sleep together. Following their sudden tryst, the two seemingly opposite men explore their dreams, visions of happiness and possible future together. Adapted from David J. Mauriello's stage play, this male love story takes place on a sparsely decorated set that keeps distractions to a minimum.