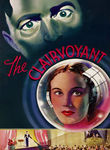 The Clairvoyant
Cast:

Director:
Performing his music hall mind-reading act, Maximus (
Claude Rains
) suddenly experiences real precognition and discovers his talent is mysteriously triggered in the company of a lovely woman, Christine (
Jane Baxter
), whose presence also infuriates his jealous wife, Rene (
Fay Wray
). Along with his accurate premonitions come fame and fortune. But suspicions are raised, and a foretold disaster puts the seer in the hot seat.