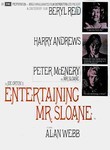 Entertaining Mr. Sloane
Cast:

Director:
An aging nymphomaniac (
Beryl Reid
) and her closeted gay brother (
Harry Andrews
) both become enamored with Sloane (
Peter McEnery
), a handsome young man with a shady past. When Sloane kills their father (
Alan Webb
), the siblings overlook his offense and blackmail him into satisfying their outlandish desires. Based upon a play by Joe Orton, this black comedy maintains a gleeful tone while exploring homicide, sadism and homosexuality.