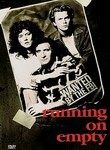 Running on Empty
Cast:

Director:
After they bomb a napalm plant during the Vietnam War, Arthur and Annie Pope (
Judd Hirsch
and
Christine Lahti
) are fugitives, never able to settle down in one place for too long. Years later, their son (
River Phoenix
) falls in love with a young woman (
Martha Plimpton
) and must decide whether to keep running with his family or stay put and risk never seeing them again. Phoenix earned an Oscar nod for his performance;
Sidney Lumet
directs.