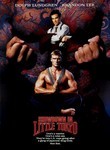 In his first major American theatrical release,
Brandon Lee
(Bruce's late son) plays a wisecracking Los Angeles cop who's been thoroughly Americanized, and
Dolph Lundgren
plays his new partner, who was raised and trained in Japan. Together, the pair must bring in a Yakuza kingpin (
Cary-Hiroyuki Tagawa
). Between martial arts battles, a pre-Wayne's World
Tia Carrere
brings some sex appeal to the story.